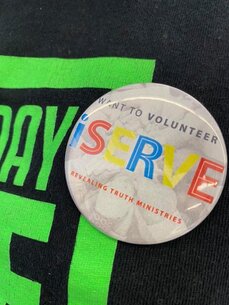 One of the best ways to show our appreciation to God and His House is by serving. As we serve, we build relationships with our brothers and sisters in Christ. We also present Christ to the people of our community with our servanthood.
Everyone interested in serving should completes the New Covenant Partners Class (membership class). This class is 4-weeks held on Sunday Mornings at 8:30 am.
*Class dates will be announced
If you are looking to become involved, or have any questions or concerns, we'd love to hear from you!
Email info@revealingtruthocc.org
Audio/Technical
Band
Beauty of Truth (Dance Ministry)
Children's Ministry
Community Outreach
Elevate (Middle School)
Food Distribution Outreach
Greeters
Intercessory Prayer
Men of Truth (Men's Ministry)
New Covenant Partners Class
New Member Intake
NextLevel (Teen Ministry)
Nursery
Parking
Praise and Worship
Social Media
Special Events
TEAM Ministry (Marriage)
TruthKidz (Elementary Ministry)
Ushers
Warriors in HEELS (Women's Ministry)