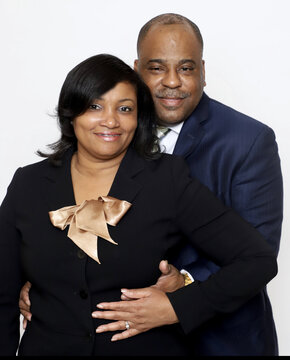 Pastors Steven R. and Latasha D. Smith are the founders and senior pastors of Revealing Truth Ministries Outreach Christian Center, a multi-cultural, non-denominational ministry in Ocala, Fl.
Natives of Atlanta, Georgia, Pastors Smith were members of New Birth United Church of God from 1991-2007 where they served on various ministries prior to becoming the Church Administrator. Pastor Smith is a graduate of Talladega College in Talladega, Alabama, were he received a Bachelors of Arts Degree in Biology and Chemistry in 1993, a Master of Science in Health Services Administration from Central Michigan University in 1998 and became a Certified Professional Coder through the American Academy of Professional Coders in 2004. He has over 20 years experience in healthcare care management and higher education. This has allowed his ministry to extend beyond the four walls of the church. Pastor Latasha (Pastor T) received her Associate of Science Degree in Elementary Education from Atlanta Metropolitan State College in 1998, Bachelor of Arts in Applied Behavioral Science in 2002 from National-Louis University and Real Estate License in 2007. She is the owner of Precision Real Estate Group.
In 2001, God would reveal their call to Pastor. Only a glimpse of the vision for what was then known as Anointed Word Ministries was given. Six years later in October 2007, God would reveal the Vision and Mission of Anointed Word Outreach Christian Center, which they Pastored over 3 years. In June of 2010, God gave instructions to their Spiritual Father, the late Pastor Greg Powe, to pray about relocating to Tampa, Florida. This was a time to totally trust, rely and depend on God as they had an established ministry. After much prayer, within five months, God had opened a door and the family relocated to Tampa, Florida. While the move wasn't easy, it was necessary. This was a time of impartation and servanthood. They would sit under the anointing and glean from the tutelage and foundational restructure of their Spiritual Father for over 5 years.
In February 2015, the Lord spoke to Pastor Smith about returning to Pastor a congregation, which was then shared with Pastor Powe. Plans for the church plant were put into motion. In April 2016, our Pastors were honored to receive the "Father's Blessing" during a Sunday morning service, where hands were laid and they were sent out. Revealing Truth Ministries Outreach Christian Center launched on Sunday, May 1, 2016 in Ocala, FL.
Our Pastors have a mandate to serve in ministry as a Team. In addition, their sons, Deonte' and Brandon and daughter, Chastity each serve alongside their parents.